The TapGateTMsystem utilizes a hanger assembly that attaches to a gate to become one integral unit.The standard hanger size we use is incorporated with the 16 foot gate because that is the standard in the industry. However, a 10ft, 12ft, or 20ft long gate can also be utilized in the same hanger system.
Latching System
The gate is held in its closed position by a latching assembly located at the opposite end from where the gate pivots at the base post. The latching assembly secures the gate between two spring-loaded latches on either side that are raised using the latch release arm to allow the gate to open. When the gate is being closed, the latch release arm is not required allowing the gate to close securely on its own. The latch release arm can only be operated once the lock is removed which adds security to the TapGate system.
Base Option
The base option for the standard gates features a 3'X 3' slab of concrete with 4 studs that act as the attachment point for the base post of the gate. The slab includes up to four attachment points for cables to provide extra stabilization for the base post or an existing fence. The base option is built to provide a stable platform for the system throughout the life of its operation.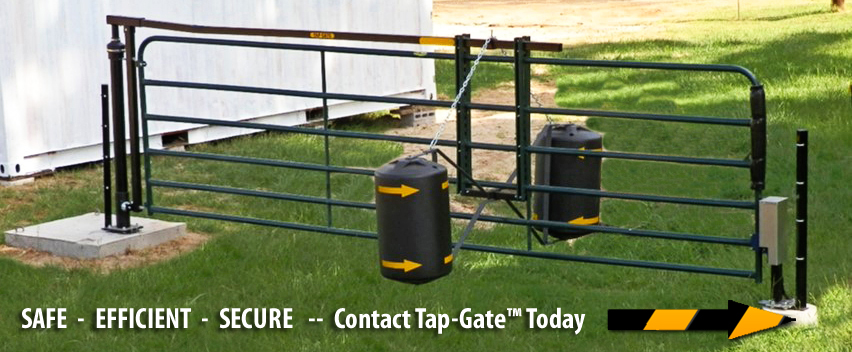 .