NO WELDER – NO PAINTER – NO PROBLEM
The Oil and Gas industry has recognized the need for a standard easement closure system due to inconsistency in appearance, quality, and security. Tap Gate has developed a viable solution to the problem with a Turn Key Brace & Gate Kit.
The Turn Key Kit requires absolutely no welding or painting for installation which immediately solves the hassle of scheduling welders and painters while eliminating fire hazards and paint chemicals. Each component is powder coated and marked with high-intensity reflective material to provide a visually appealing and identifiable easement for the landowner and the energy company. The kit provides multiple theft deterrent components including gate straps, hinge locks, and custom paint and logos that brand your property.
Installation is a quick time saving operation requiring only one roustabout crew. The flexible design gives you the versatility to customize a kit that will fit your specific needs and specifications. The Turn Key Brace & Gate Kit is durable, secure, recognizable, and can be the standard for your company's easements.
Total Cost (2.5″):   W/Black – $2500    Total Cost (3.0″):   W/Black – $2750
Total Cost (3.5″):   W/Black – $3000    Total Cost (4.0″):   W/Black – $3300
ADD-ON'S (Additional Charges Apply):   Custom Powder Coat Colors & Custom Logos
Tap-Gate's 50′ Easement Advantages

No welding and No painting required. Everything comes ready for install.  Eliminates fire hazards, welding expense, chemical hazards, painting expense and the hassle of scheduling welders, painters, etc.

Each component is powder coated for superior protection against the elements, and marked with high- visibility reflective material for easy identification.  Multiple powder coat color options available.

The light-weight modular design of the M.A.N. H-braces allows for easy transportation and installation. Requires only 1 roustabout crew for installation, and no heavy equipment needed for install.

One 16′ access gate and one 20′ lockout gate for greater ease of access to the location.

You have the option to have each H-brace come with your company's custom logo in reflective material to identify your property.

H-braces are made from durable SCH 40 steel with sizes available from 2.5″ up to 4″.

The width of each H-brace can be adjusted from 4′ up to 6.5′ in 6″ increments.

Theft prevention components included
Typical 50′ Easement Disadvantages

Welders, painters, and roustabout crew make multiple trips to the location adding cost.

Welding/torch cutting outside creates potential fire hazards.

Installation is difficult with heavy H-braces that are constructed on-site.

Only one 16′ gate for entering/exiting the location.
Typical Easement for Cost Comparison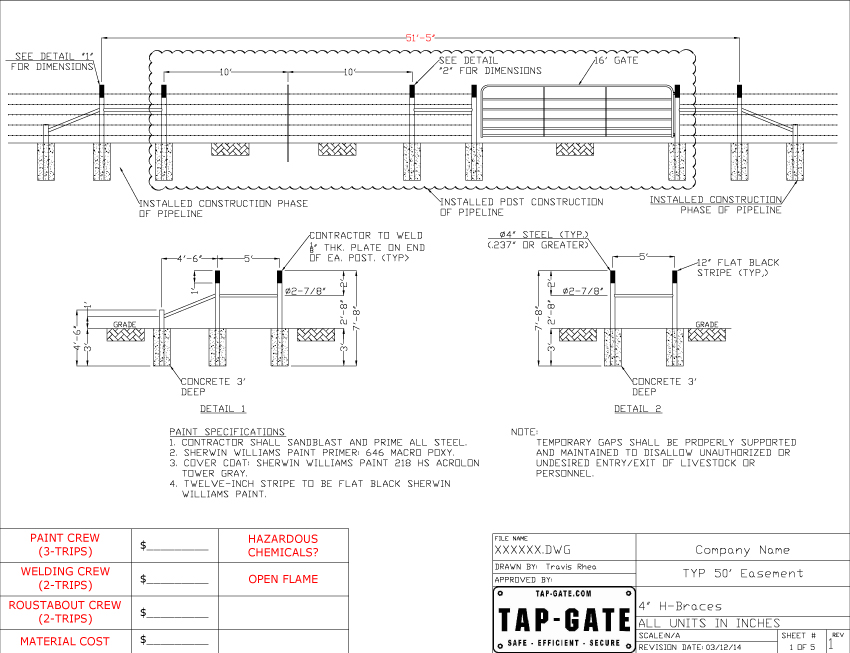 .