Oil & Gas
Tap-Gate™ has multiple products suitable for the oil and gas industry, like the standard Tap-Gate™  and M.A.N.™ Brace System.  Our goal is to make quality products that are designed to save you time and money.  All of our products are made here in the U.S.A. and are constructed with durable materials that will stand up to tough environments.
Pipeline Easement
The M.A.N.™ Brace System has many features that are great for pipeline easement construction.  It's modular design allows for easy transportation to the site and quick assembly.  It's adjustability lets you avoid obstacles and have multiple H-Braces in one.  No welding means you never have to worry about burn bans.  The H-Braces are powder coated and can come with YOUR Company's custom logo on high-intensity reflective tape.  50′ Easement kits are available.
Farm & Ranch
Most of Tap-Gate™  Products can be utilized on the farm or ranch.  The standard Tap-Gate™  has several styles, like the Cattle Guard Bar Gate and the King Ranch Style Gate to fit your specific needs.  When building fences Tap-Gate™  offers the M.A.N.™ Brace System, Saddled 'n' Ready, Fence Fork™ and Quick Brace™ to make the construction process quick and easy.  We also offer panels and gates in a variety of sizes and styles.  The Gatekeeper is another handy tool that will save time and make your life easier.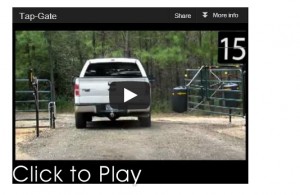 We bring over 30 years of experience in the oil and gas industry with an aim to revolutionize quality gate technology for maximized safety, security and efficiency of oil-field personnel and land owners.  Tap-Gate™ patented technology allows for service vehicles to enter and exit private property safely and securely without having to exit the field vehicle.
 The Tap-Gate™ is a low maintenance, self-locking system, superior to a bump gate, built with a completely mechanical design, powered solely by the inertia of your vehicle tapping the gate. We offer three custom designs uniquely structured to meet the specific standards of land owners and field personnel.
Tap-Gate™ systems are built with quality and efficiency as our top priority.
.